Captain Martin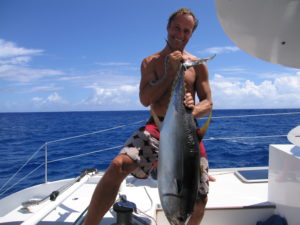 After my first long sailing trip twice across the Atlantic with my 35 feet Jeanneau One Design cruiser-racer Bluenote 2003/04 I returned back to work to Austria – knowing that I needed to save more money to finance the dream boat that I saw on my first trip. And so I bought and helped build Wild One a Barramundi 470 catamaran designed by legendary boat designer Eric Lerouge with Barramundi Asia Boats. In 2011 the journey with "Wild One" began.
I have sailed more than 90.000 miles in almost every weather conditions: although careful route planning avoids the worst. Recently I crossed my starting point and circumnavigated. Having all my toys on bord like kite-surf equipment and climbing equipment it seems to never get boring and I am happy to share a daily adventure with my crew.
On my trip more than 100 crew members have joined me and I was never alone – most of them became good friends and came again and again.
Diving or snorkeling and exploring near islands can be nicely combined with sailing.
After Wild One the Nautitech 47 catamaran followed betwenn 2017 and 2021. 2022 I start with my new catamaran Too Wild – a fast and light 44 ft cat designed by Shuttleworth (Advantage 44) and built in Germany.
There will be different trips with emphasis more on sailing or kitesurfing or climbing. Freediving is a good alternative on all trips.