Captain Martin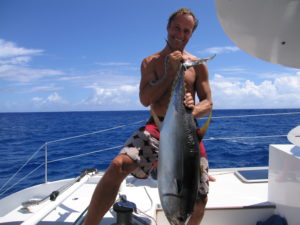 After my first long sailing trip twice across the Atlantic with my 35 feet Jeanneau One Design cruiser-racer Bluenote 2003/04 I returned back to work to Austria – knowing that I needed to save more money to finance the dream boat that I saw on my first trip. And so I bought and helped build Wild One a Barramundi 470 catamaran designed by legendary boat designer Eric Lerouge with Barramundi Asia Boats. In 2011 the journey with "Wild One" began.
I have sailed more than 90.000 miles in almost every weather conditions: although careful route planning avoids the worst. Recently I crossed my starting point and circumnavigated. Having all my toys on bord like dive gear with compressor, windsurf boards, kayak, kite-surf equipment, mountain bike and climbing equipment it seems to never get boring and I am happy to share a daily adventure with my crew.
On my trip more than 100 crew members have joined me and I was never alone – most of them became good friends and came again and again.
Diving or snorkeling and exploring near islands can be nicely combined with sailing.
So far I have logged more than 1500 dives and as dive master can take interested crew on a first dive. Some crew members started this as a new hobby after a trip with me.
With our new Catamaran – a Nautitech 47 Wild Too – we already crossed the atlantic and sailed in the Caribean 2017/18 and 2018 / 19 in Panama, Mexico and Belize.