Wild Too is my old boat and it is sold. Pictures of my new boat Too Wild – a Advantage 44 Catamaran desigend by Shuttleworth will follow soon.Too Wild is a really fast 44ft catamaran with central daggerbord, built in Germany 1998. With 8,5 meters width it is 1m wider than my old boat and only half the weight. It was owned by an old man and right now needs a lot of love. It will get a complete refit in March and April. (new engines, new windows, new sails, new saloon interieur and new non skid painting and other paint jobs inside and outside)
The boat has 3 comfortable double cabins with 1,6m * 2m beds and one big bathroom in the right front. I will rebuild the interieur in March and April and infact have already started prefabricating sandwhich parts for the new saloon interieur at home in Austria. The kitchen will be moved from the hull into the saloon. There will be a spacious couch and a table with setee in the saloon.
All in all it will be faster then Wild Too, maybe even faster than Wild One, but for sure less spacious and comfortable than Wild Too with her 4 bathrooms…
Sailing is all about compromises….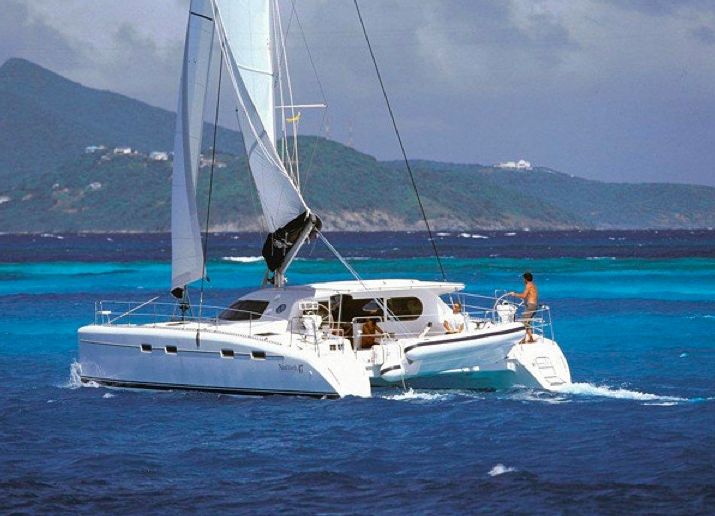 Katamaran Nautitech 47, built 2006, N-32461 "Wild Too", Flag Austria
Yard: Nautitech / France
Production Method: Vinylester / Vacuum Infusion
Length: 14,70 m
Width: 7,80 m
Weight: 12.000 kg
Engines: 2×55 PS Diesel
Mast Height: 18,00 m
Sailarea: 120 m2
Spi: 168 m2
Gennaker heavy: 160 m2
Gennaker light: 180m2
Wild Too Outside: 
The cockpit roof offers good sun protection. In good weather we eat outside at the spacious cockpit table. If you want to hang out in the sun the front area is a good place for that.
WILD TOO inside, Layoutplan, Cabins
Wild Too has 4 double cabins with beds 140m * 190m und 4 single bunk beds in the bows. – see Layoutplan below. All in all we have 12 bunks. Each double bedroom has its own bathroom and toilet. We try to keep the number of guests to 7 persons max. The starboard front double bed and one starboard single bunk is occupied by me and Stephie and Emilia, my baby daughter, when they visit. Another single bunk is used as storage for the 2 Genaker sails. I cannot promise you your own cabin but I do put ladies and couples together in a double if possible and if it really does not work because of snoring or whatever there is the option that you occupy 1 of the 2 free single bunks in the bow on the port side. You can have your own double bunk if you pay the double costshare of course. All cabins have curtains, several windows and doors.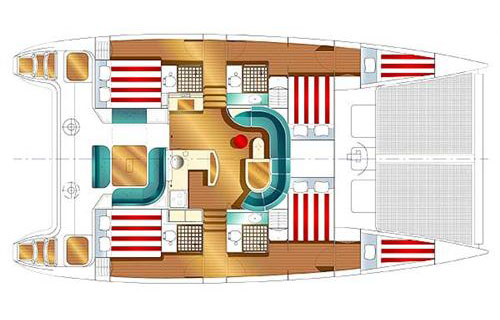 Wild Too Saloon:
When you enter the boat you find a spacious saloon with a table seating 10 persons and a large galley with stove, oven, fridges and a sliding window.